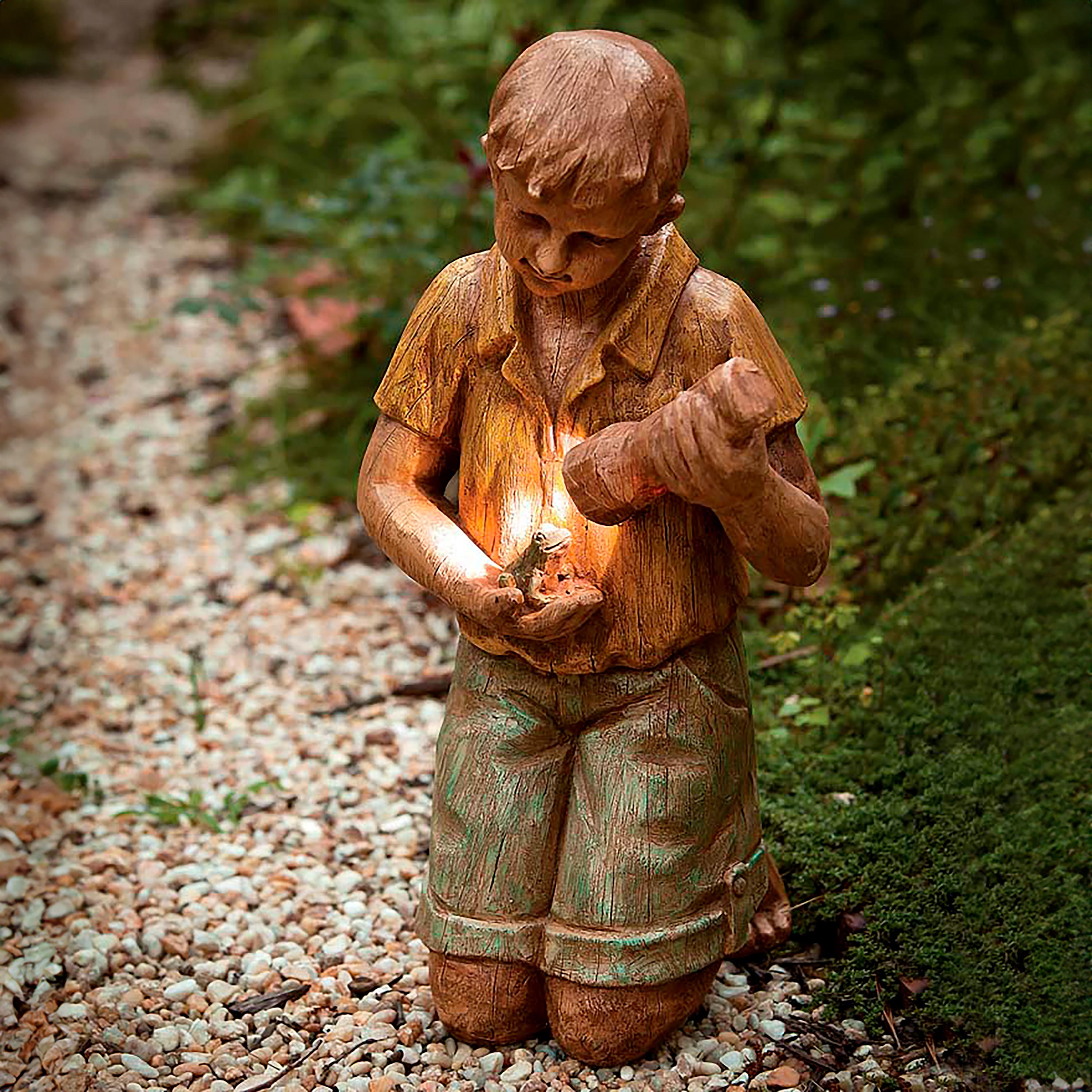 Accent a pathway, pond or other favorite garden spot with our charming Boy and Frog Statue with Solar Flashlight. This garden statue captures the essence of childhood curiosity as a young boy holds a frog and examines it with a flashlight. A solar panel in the boy's back absorbs light by day to light his flashlight by night. Crafted of weatherproof, durable resin.
$69.95
Related Products
$39.95
Our Reading Frog Garden Statue is a charming garden accent. And we could all learn a lesson from this clever frog: take time to relax and enjoy a good book. Give this Reading Frog Garden Statue a place of prominence in your yard, and he'll elicit smiles from all who pass. Made of all-weather resin and stone powder with the look of cast bronze.
$19.95
This agile frog statue is ready to hop, skip or jump into both your garden and your heart! Cast in quality designer resin and hand-painted in slick, glossy black, green and gold hues, this tree jumper is fresh from the rain forest as one of our favorite new accents. Perfect near a pool, pond or patio, our Design Toscano exclusive is one lucky frog! 11"Wx6½"Dx4½"H. 1 lb.
$55.95
Feel the meditative yoga power! With amphibious ardor, this trio of croakers made the laughable leap from polliwog to frog statue, piling up in a tongue-in-cheek, Design Toscano-exclusive sculpture that will have animal lovers thanking their lucky lily pads. Cast in quality designer stone resin, each toad is artfully sculpted with frog legs and webbed feet in traditional yoga positions to give visitors to your pool, pond, patio or garden path a sweet smile. Great gift for a nature lover too! 10"Wx8"Dx23½"H. 7 lbs.