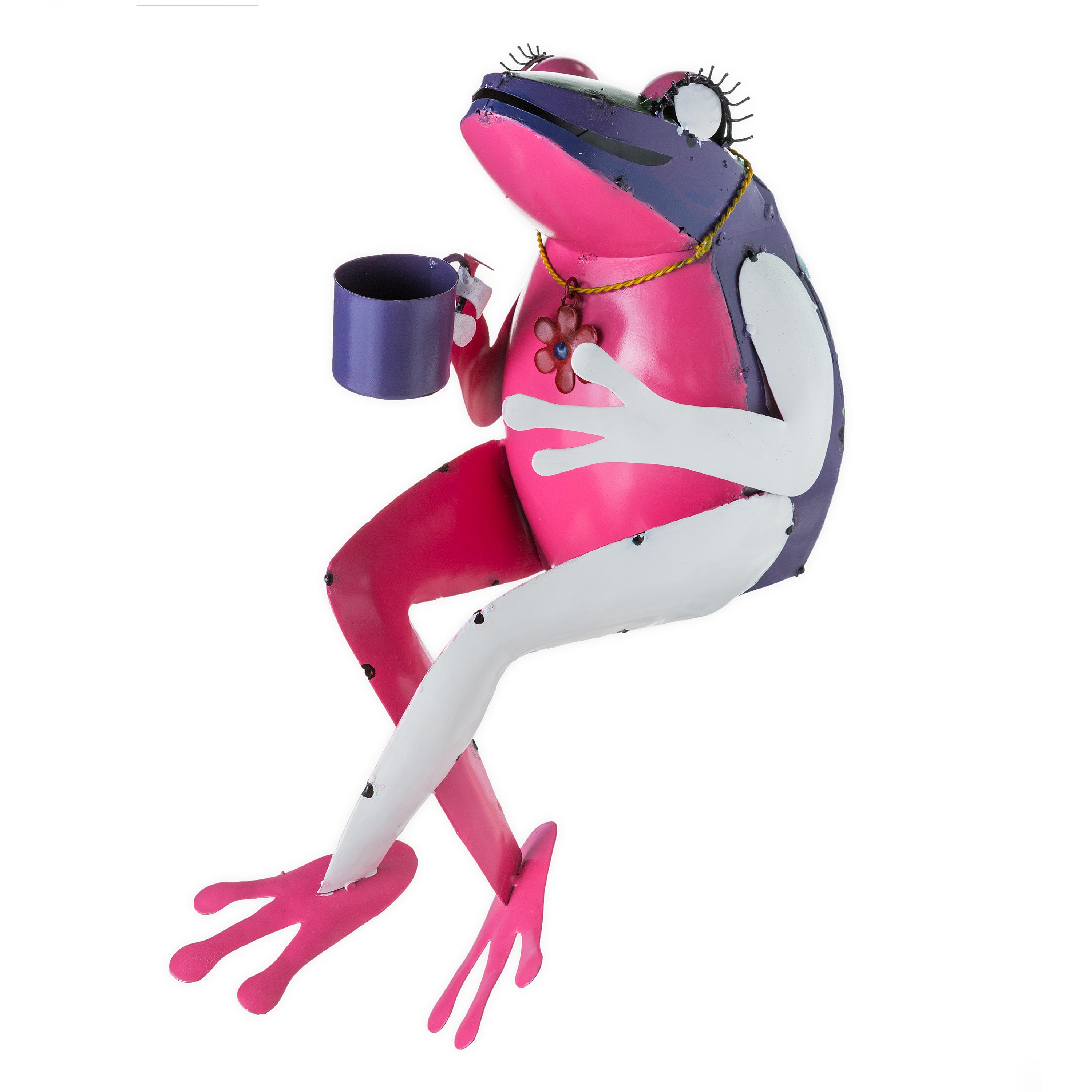 Colorful and eye-catching, our delightful Recycled Metal Tea Frog Garden Art will always make you smile. Complete with long eyelashes and a flower charm necklace, our frog garden statue makes a great conversation piece. Place her near a garden walk, porch stairs, hearth, or anywhere you want a fanciful and fun accent. Each tea-sipping frog is handmade from recycled oil drums in Bali by local artisans, and each one is unique! Seat this fabulous amphibian indoors or out - she is the perfect accent to spice up any space.
$49.95
Related Products
$29.95
With wide-open mouth to steer water from your downspouts onto your lawn (and keep it from damaging your foundation), our frog gutter sculpture splashes happily as one of the most decorative works of architectural art we've seen! Cast in quality designer resin to capture playful sculptural detail, from scaly skin to wide eyes, this Design Toscano exclusive Frog statue is as fun as it is functional. (Fits standard rectangular downspouts up to 2½"x3") 9½"Wx6½"Dx6½"H. 2 lbs. Buy two or more animal downspouts only $22.50 each!
$75.00
When you see a perfect moment, capture it! Artist Evelyn Myers Hartley spotted her neighbor's young daughter beside her pond last summer and immediately knew she needed to immortalize the moment in a sculpture. With rich sculptural detail from her crown of flowers to the frogs and lily pads at her bare feet, Hartley coaxed a summer's calm into a work of garden art that's the perfect outdoor decor piece. Cast exclusively for Design Toscano in quality designer resin with an antique stone finish, this homage to childhood innocence is an instant heirloom. 13½"Wx10"Dx17"H. 5 lbs.
$35.95
Since turtles are said to be lucky, our frog seems to be in good company! So realistically sculpted that they are likely to be mistaken for their living, breathing namesakes, our Design Toscano-exclusive work of decorative garden art is cast in quality designer resin and painstakingly hand-painted. Not just along for the ride, our frog and turtle statue is perfect for your pond but will find a proud place in your home or garden gallery. Another quality pond statue from Design Toscano!