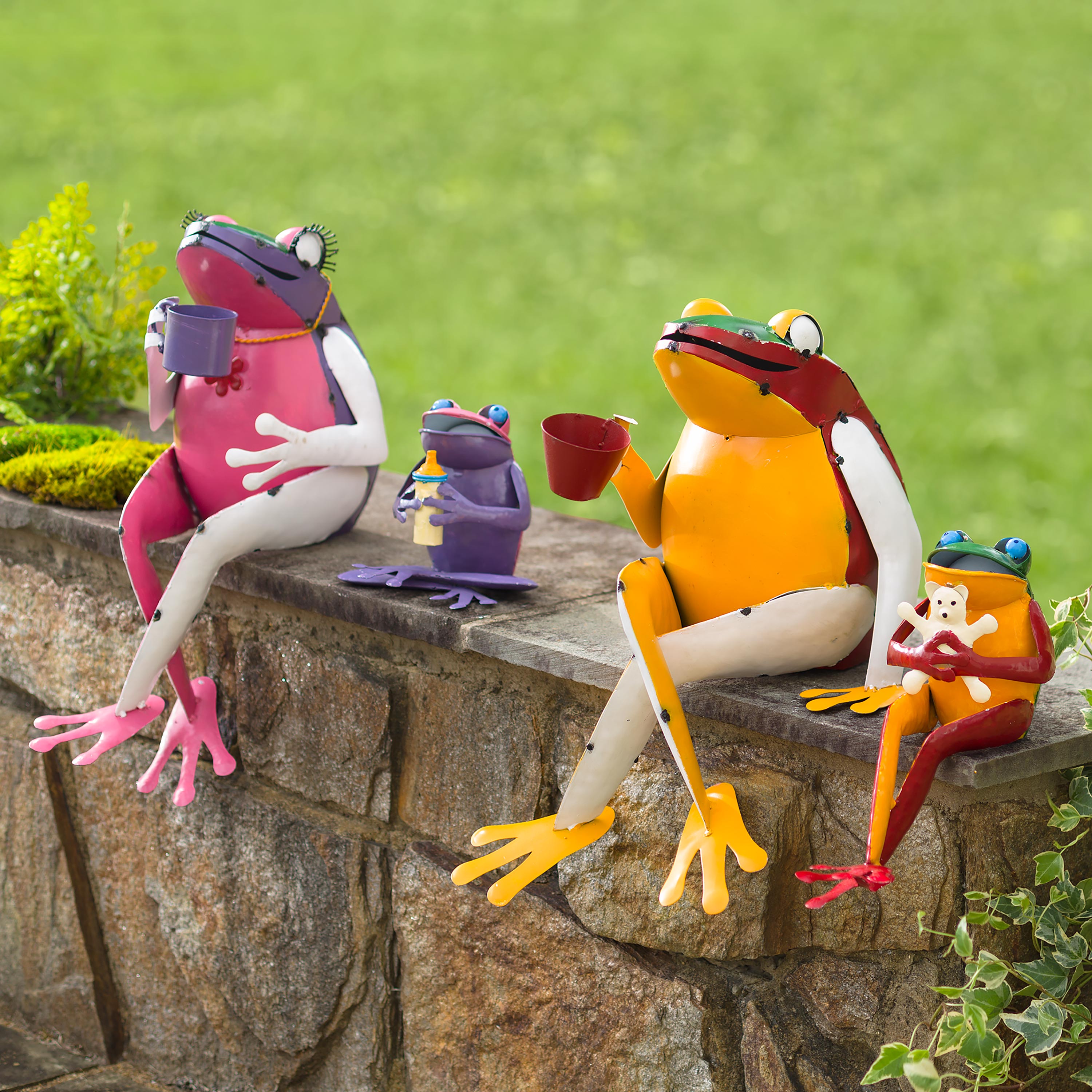 This whimsical set of four decorative Frogs will surely jump-start your garden decor. Colorful frogs are handmade of recycled metal and hand-painted in bright, cheerful colors. Dad sips his coffee and Mom, wearing a necklace and flirty eyelashes, sips her tea. Two adorable babies complete this fun frog family. One holds a teddy bear while the other holds a bottle. Set them on porch stairs, in the garden, or anywhere you want to bring a smile. These four are sure to be conversation starters wherever you put them. Handmade from recycled oil drums in Bali by local artisans - each one is unique! Size are approximate.
$139.95
Related Products
$35.95
Since turtles are said to be lucky, our frog seems to be in good company! So realistically sculpted that they are likely to be mistaken for their living, breathing namesakes, our Design Toscano-exclusive work of decorative garden art is cast in quality designer resin and painstakingly hand-painted. Not just along for the ride, our frog and turtle statue is perfect for your pond but will find a proud place in your home or garden gallery. Another quality pond statue from Design Toscano!
$49.95
Colorful and eye-catching, our delightful Recycled Metal Tea Frog Garden Art will always make you smile. Complete with long eyelashes and a flower charm necklace, our frog garden statue makes a great conversation piece. Place her near a garden walk, porch stairs, hearth, or anywhere you want a fanciful and fun accent. Each tea-sipping frog is handmade from recycled oil drums in Bali by local artisans, and each one is unique! Seat this fabulous amphibian indoors or out - she is the perfect accent to spice up any space.
$67.99
Handcrafted entirely of copper, this whimsical frog and lily pad are painted with a glossy UV-resistant coating. The included 36-inch copper stake holds the sculpture above garden plants or potted plants.